ProRPM 2.0: Real-time Performance Monitoring Dashboards
Product Highlights

Ingenious' ProRPM solution is a model based real-time performance monitoring(RPM) solution. ProRPM is CLOUD enabled and can be deployed on a commercial or private CLOUD. Try it...

Make Faster and Smarter decisions with ProRPM dashboard portal

Visualize, analyze, and explore Data in real-time or historical form using ProRPM integration and calculation engine.
Access & consolidate information form databases, data historian, ERP information for predictive analytics (OLAP) and visualization of data.
Integrate with industry leading simulation, modeling, GIS mapping and statistical software engines to drive intelligent decisions.
Cloud or server deployment with access from any smart device including ipad and iphone.
Ingenious also excels in providing training simulators and e-learning solutions. Please navigate our website for a list of our pre-built library of training simulator models and e-learning systems. In addition we build custom systems based on asset information such as process description and flow diagrams.




Process plants are dynamic in nature. Companies need to know not just how their assets are performing, but how they should be performing. Continuously changing feedstock, operating conditions, products and environmental factors impact the daily operation of a process plant. It's no longer good enough to monitor the plant occasionally on a static basis. With intense industrial competition, companies must track and monitor key performance indicators (KPI's) continuously including profitability, costs, as well as energy & environmental factors. Ingenious Inc offers advanced solutions and expertise in the process industries including chemical, oil & gas and energy industries.

Ingenious' ProRPM solution is a model based real-time performance monitoring (RPM) solution. ProRPM is CLOUD enabled and can be deployed on a commercial or private CLOUD. Its intuitive portal includes ability to rearrange widgets (templates) to easily customize the look and feel. ProRPM features easy data integration, data dictionary to filter through large list of tags from any data source, and a rigorous calculation engine used to calculate KPI's, Green house gas (GHG) emissions and other custom calculations, and seamless connectivity with leading modeling and process simulation engines.
Need For RPM
Large assets at work with plant personnel focusing on maintaining throughput and keeping units online.
Plants need to reduce costs & energy consumption.
Increasing demand for graphical solutions & Analytics that provide actionable items as opposed to reams of raw data.
Resource limited industry, with need to manage safety and quality issues.
Green House Gas (GHG) emissions monitoring & environmental reporting.
Steps In Developing RPM
Data collection & integration for various data sources
Development of models to determine optimum operation
Custom "knowledge" templates to predict and forecast current and future problems/improvements in the plant
Display dashboards and Analytics with KPI's (Key Performance Indicators)
Continuously monitor plant making recommendations for improvements
ProRPM capabilities
Continuously monitor KPI's and performance
Perform "what-if" analysis and debottlenecking to improve product yields and quality.
Equipment condition monitoring
Improve resource utilization
Google Maps (GIS) embedded
Voice recognition for KPI's
Accurate Material Balance and loss analysis
Profit & Operations Analytics through dashboards
Data Integration
ProRPM provides custom adapters to easily integrate with leading third party applications such as Microsoft Excel, OSISoft's PI data historian, Leading simulation software, Microsoft SQL server, OPC to link to any DCS, SCADA system and Microsoft SharePoint.
Versions
ProRPM comes in 2 versions: ProRPM standard and ProRPM Premium.
ProRPM standard version includes
ProRPM software license (lease or perpetual)
Calculation engine/RPM bridge
Data dictionary
1,000 tag limit for creating dashboards
Adapters for

Microsoft Excel & SQL server
ProRPM premium includes all features of ProRPM standard plus
10,000 tag limit for creating dashboards
Adapters for

OPC (OLE for process control) DA and HDA (Data Access)
CHEMCAD and Petro-SIM simulation engines
OSI-PI data historian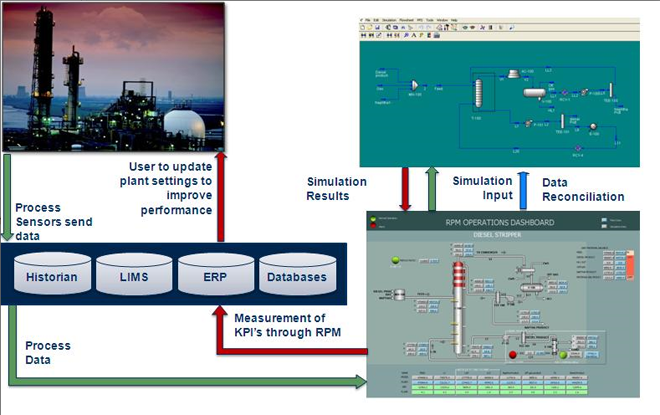 Product Access